DBN Amarvilla Principal's Message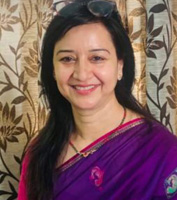 An Ex-Student of St. Maria Convent School and Senior Secondary from Kendriya Vidyalaya. Graduation & Post-Graduation (English) from RDVV, Jabalpur (M.P.) and B.Ed. & M.Ed. from GGU Bilaspur (C.G.). Started teaching in 1995 and has worked in different capacities like PGT, Head Examiner for CBSE Board etc.
Ms Praveena Jha took over the DBN Amarvilla School in August 2015 and she states:
"The students are same everywhere whether it is Rajasthan, Jabalpur or Jammu. The most important thing is to get co-operation of the Staff. My duty is to understand the people and make them realize why they are here and make them aware of their responsibility. It would be my endurance to make the teachers realize that they have to play an important role in the life of students. It is the teacher who plays the role of a role model for his/her students and serves as an important link between the students and their parents. In other words, the teacher is very crucial in building, re-designing and re-shaping the society through students. As Principal, my plans are same as Director COE but my all out efforts would be to establish DBN Amarvilla as a good CBSE affiliated school, not only in the state but at the national level as well. I am a teacher by choice and not by chance. I am very happy and satisfied with my profession. Hence, there is no question of dissatisfaction. The students and the society must be aware of their responsibilities and Teachers must learn the Joy of Giving."
Ms Praveena Jha
Director DBN Centre of Excellence & Principal DBN Amarvilla