DBN Amarvilla Principal's Message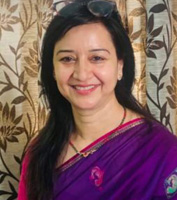 "Great things are done by series of small things brought together"

Today, the role of the school Is not only to pursue academic excellence but also to motivate and empower its students to be life long learners, critical thinkers and productive members of an ever changing global society.

The purpose of the school is to encourage the child to channelize his potential. This can only be possible in a child centric environment. The talent, skill and abilities of each student need to be identified, nurtured and encouraged to make the child reach greater heights. Students need to be provided with a platform to think, express and exhibit their skills.

I believe that a student harnessed in such an atmosphere has every hope and possibility of becoming a responsible, balanced and educated adult who is ready to shoulder the responsibilities in the society.

As the principal of DBN, Amarvilla, I will try my level best to take the school to new heights. I am glad to be associated with a school, where traditional and modern educational values are respected and encouraged to coexist. Our beautiful campus revives us all about the cognitively rich atmosphere having a blend of traditional values prevailing in the school building.

'Life begins with one step outside our comfort zone.' Teachers leave no stone unturned to provide knowledge to our students by making them learn by doing things themselves, relating them to live examples rather than rote learning, to build a firm foundation focusing on the quality of school life for their all round development. Special emphasis is made on acquisition of knowledge, understanding, critical thinking, reasoning and problem solving abilities for all the students. We firmly believe that each child is unique with a special ability. Hence, it is our duty to nurture that ability to recognize the hidden talent to help the child to progress in life.

Cocurricular activities are an integral part of the curriculum. The idea is not just to confine the students to class rooms but open before them a plathora of opportunities to choose, excel and learn to fulfill their holistic development.

Let us make this trio of students, parents and school help the child to face the challenges of tomorrow, groom them to face the challenges of the world and encourage them to be socially relevant. Our job is not to prepare the students for something, but our job is to help students prepare themselves for everything.

At DBN, AV, we also strongly believe in collaborating and communicating openly and frequently to work together in making the future of our kids bright.
TOGETHER WE WILL MAKE A DIFFERENCE!
Ms Ranju Malhotra
Principal DBN Amarvilla